Estimated Organic Traffic from Google1
TechTarget vs. Competition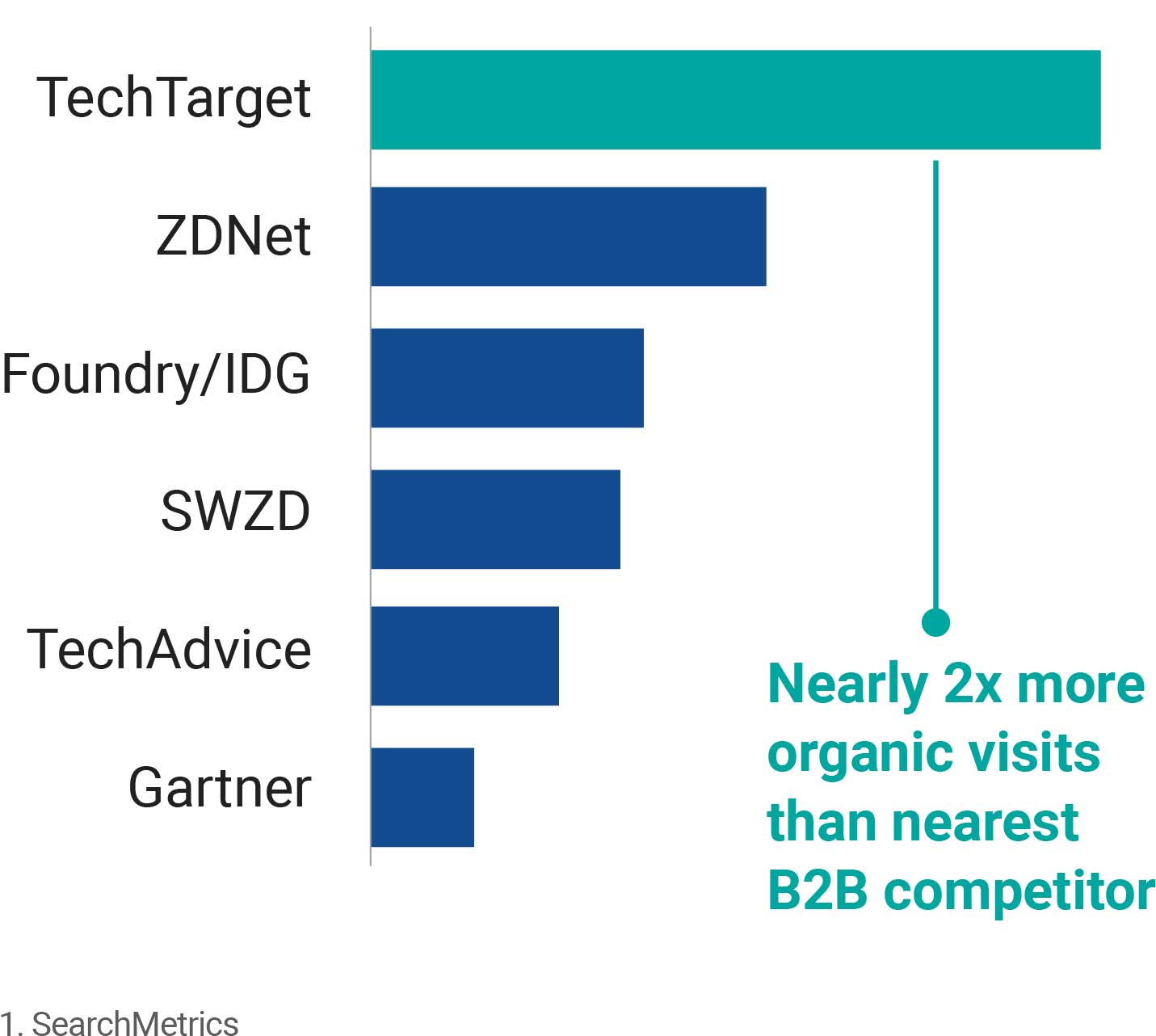 Come into the light. See where the active buyers are
While in-market demand may seem dark to you, truly active buyers are actually clustered in plain view around the decision-support content they need right now. They're on our web properties every day. And as the largest enterprise tech publisher on the web, we can shine a light for you on exactly the right people you should be engaging with now.
talk to an expert
The most direct path to more direct engagement
Every company struggles to generate enough inbound demand. That's why, for more than two decades, TechTarget has perfected the model of bringing tech buyers to our original content. And it's why, for nearly any Google search on an enterprise tech topic, you'll find us right on the first page. We do this work for you, so you can spend less on attracting attention and focus more on getting the right people to convert.
83%
of buyers' time is NOT spent on your website
85%
of our active accounts2 are NOT active on your website
2. Last 90 days
The secret is our content model
Unlike most other publishers in the space, TechTarget focuses on specificity and granularity. We know this is the content your buyers are looking for. It's why our domains attract 2x the relevant traffic of the nearest imitator.3 And it's why they trust us and opt in with us—so we can better market to them on our behalf and share their intent data with you.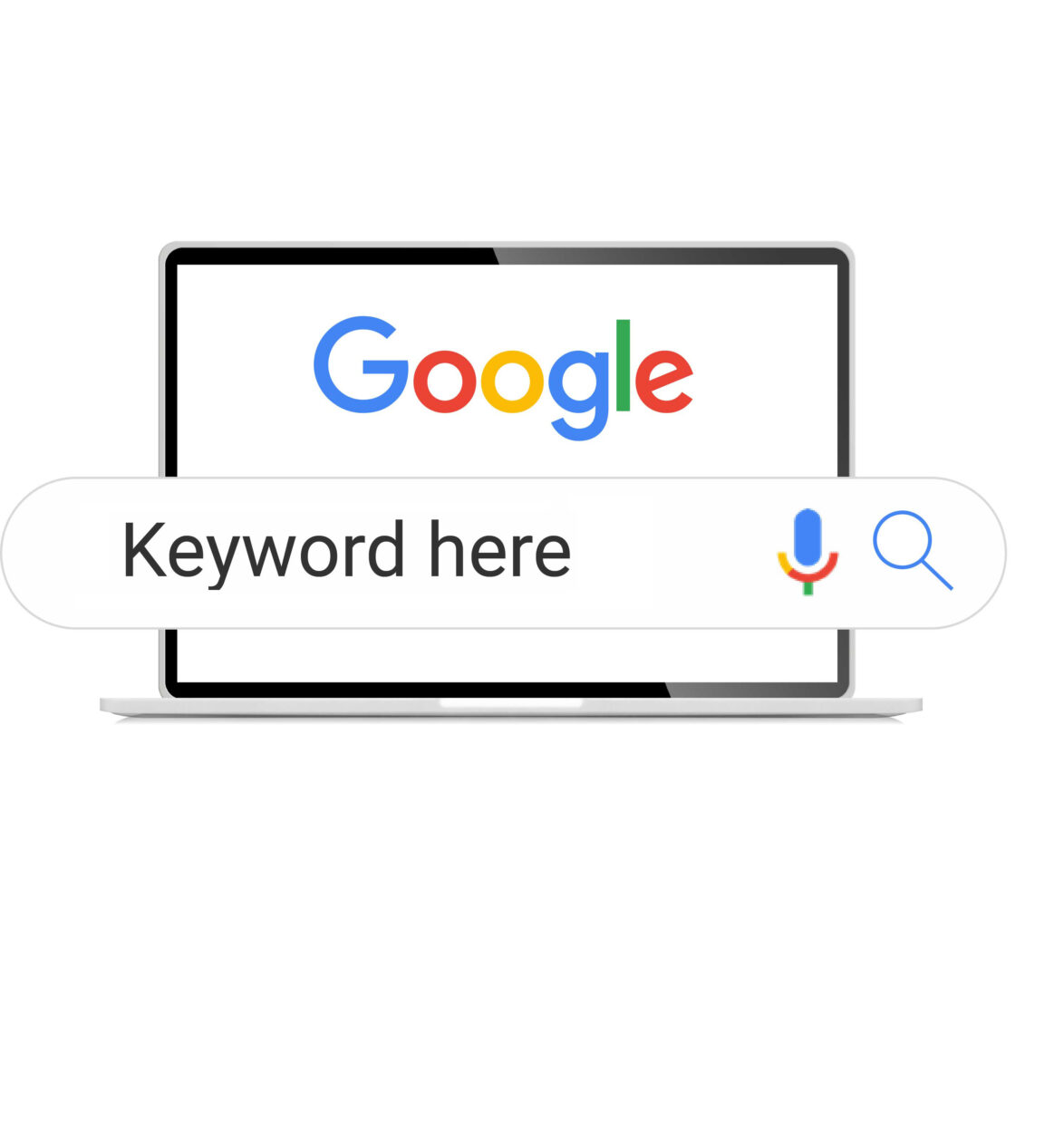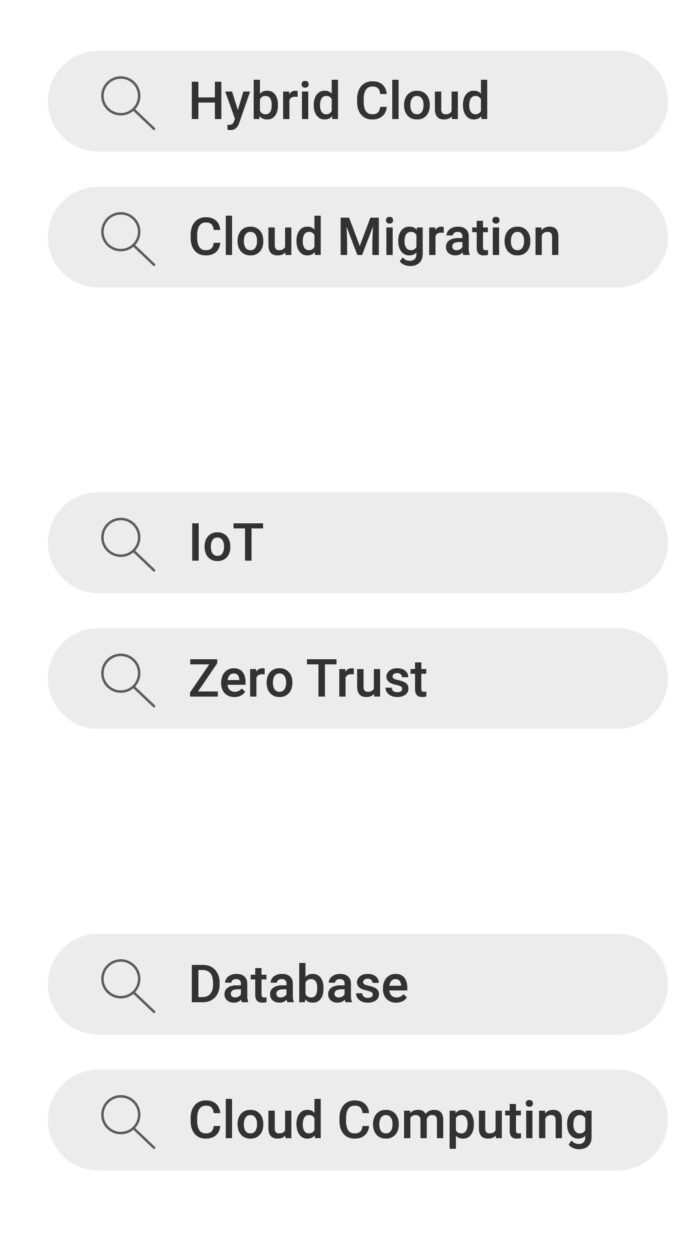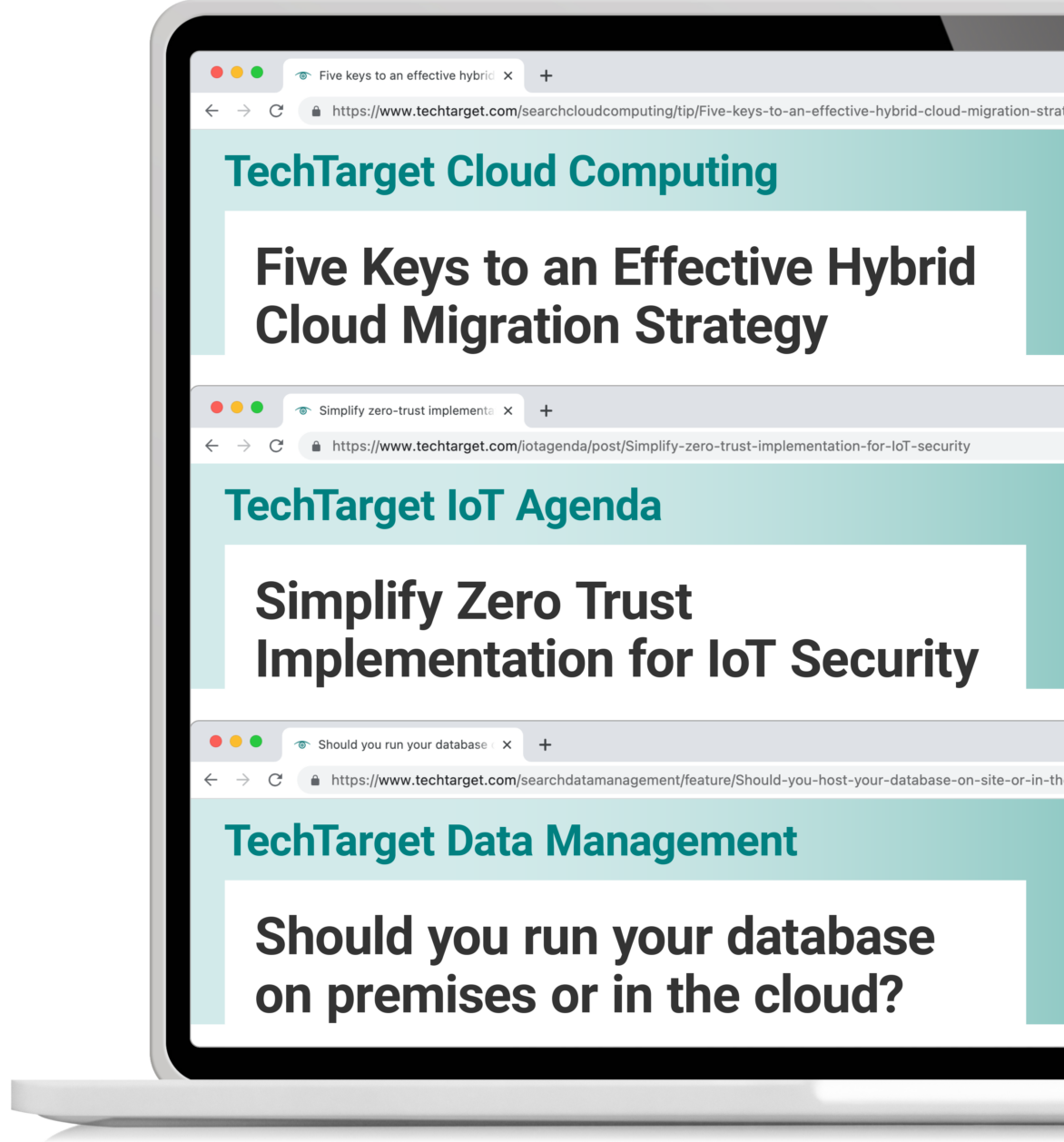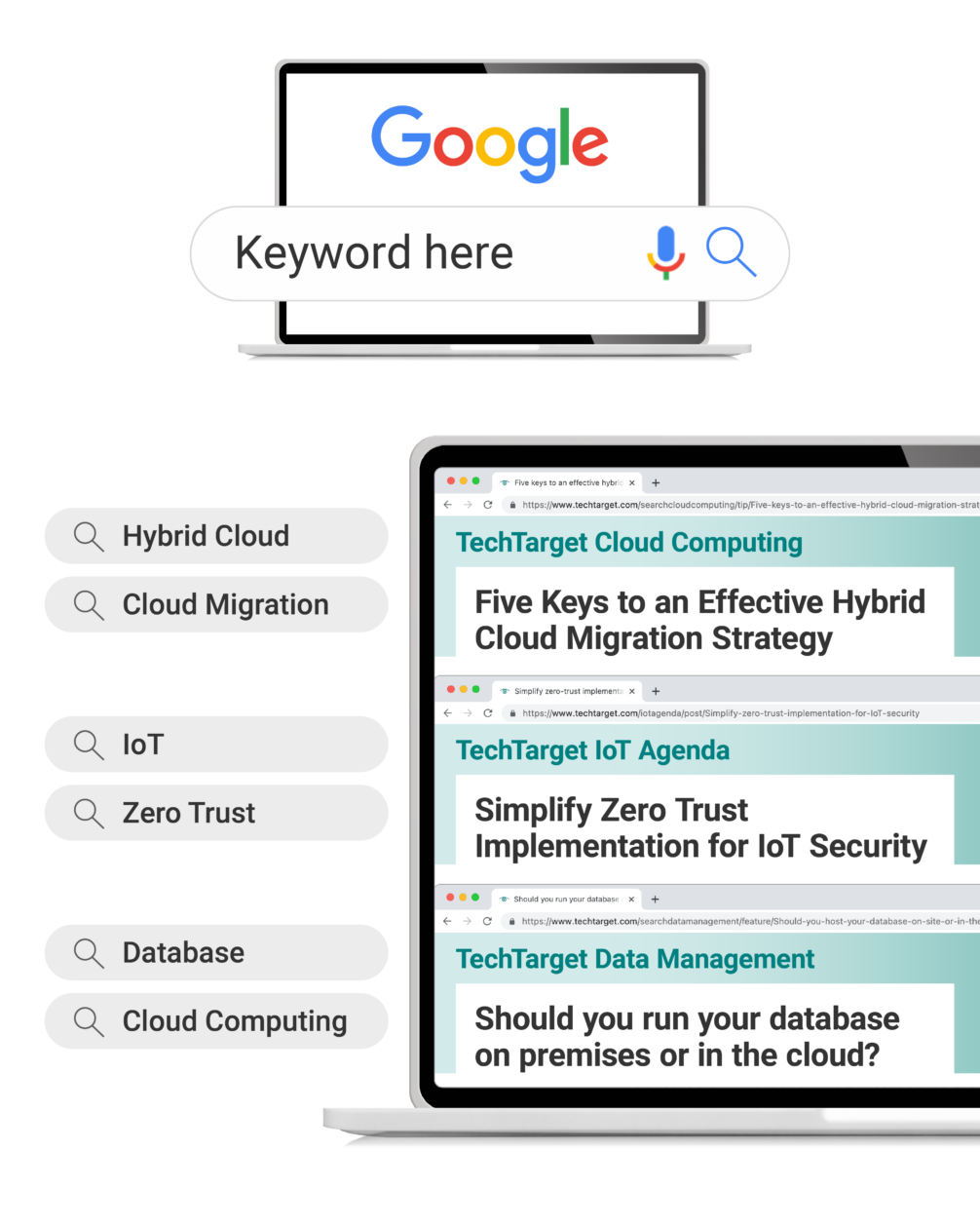 Coverage that captures tech needs from every angle
Whether you're in a well-known category or defining an emerging one, it's difficult to predict how today's buying organizations will most easily discover you. That's why we begin by covering every major category and then cross-referencing and cross-linking them in every probable combination.
What's more, to make sure prospects get the content they need in the format they prefer, leading clients make sure to leverage video, webinars, virtual events and sponsorships through our BrightTALK® network—to access the communities of practice built around the 1,100+ channels featured there.
Capturing more active buyers into your funnel
Connect to your market. Working with our experts on a regular basis, you'll be better able to match what you say and do to how the market is actually pursuing solutions like yours.
Intercept more buyers. By shaping your programs to be more aligned to real buyers' behaviors, you'll move faster from where you are to where you need to be. Our insights and expert analysts guide the way.
Influence and convert. Leverage our research and analysis of what's effective at every stage to build better assets yourselves, or we can build them for you. Or even easier, you can sponsor expert guidance that our Enterprise Strategy Group™ is producing every day.
More clients choose Priority Engine™. For the clearest and most complete view of your market available anywhere, TechTarget's real-time purchase intent data platform delivers what's happening at the level of each person in each active buyer's journey. You'll never miss another opportunity!

To help optimize your products and GTM, TechTarget's Enterprise Strategy Group™ provides expert analysis across these major solution categories:
Application Modernization
Customer Experience
Cybersecurity
Data Analytics & AI
Data Management
Data Protection
End User Computing
Infrastructure
Networking
Operations
UC & Collaboration
Learn More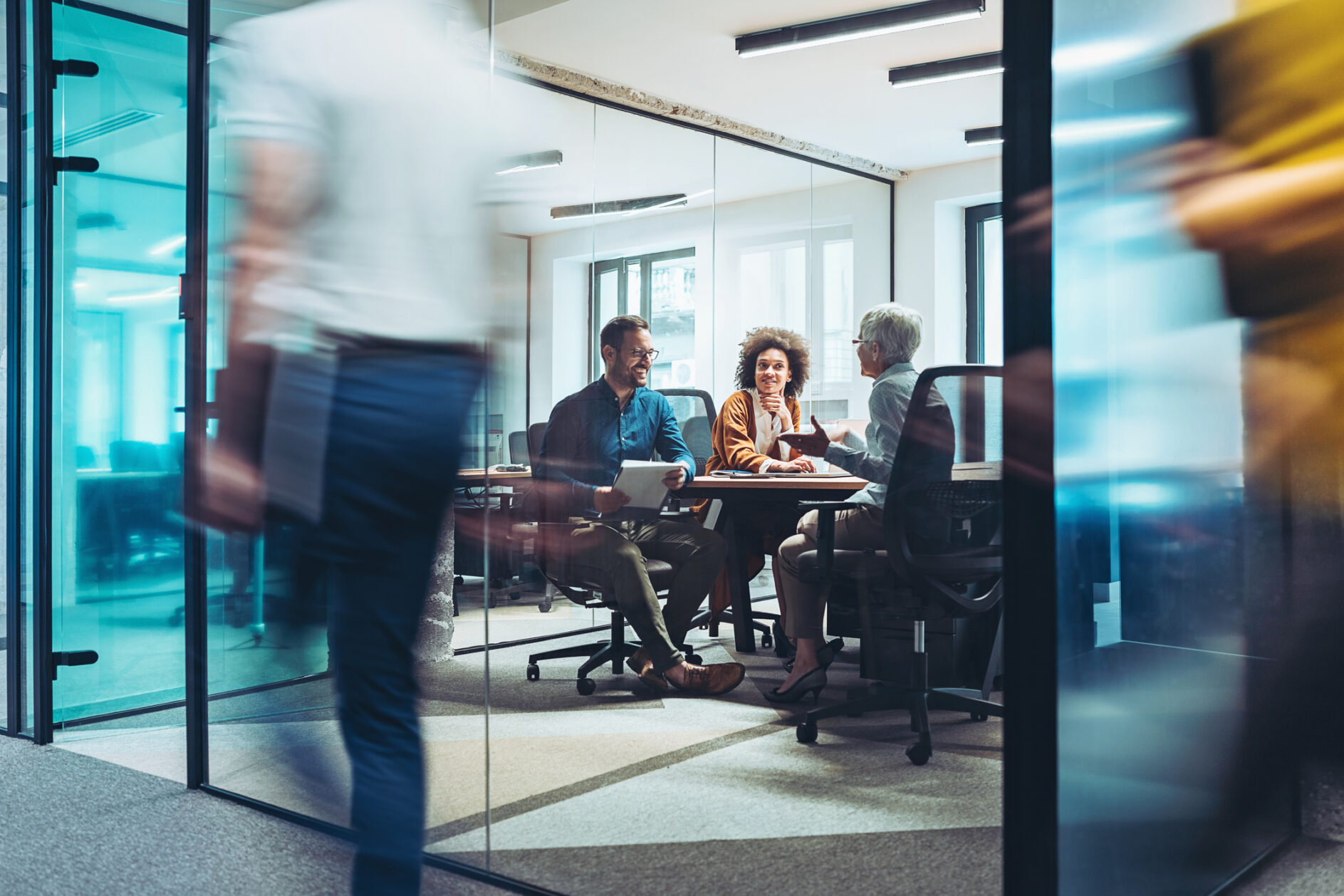 TechTarget is where you need to be
TechTarget's in-language editorial content attracts and nurtures active buyer communities in all the major geos. Our proximity to the markets you seek, combined with our content ownership and opt-in model, means we show you exactly what the buyers you want are watching and reading right now.
Learn More

Closer to the markets you care about most
From NYC to ANZ, and Munich to Mumbai, TechTarget can support your global growth objectives. With editorial coverage for your buyers and full-service capabilities for your teams, we help clients execute fast and scale up efficiently.